Slots are undoubtedly one of the first games that come to our minds upon hearing the word "casino". The fact that they can be found in almost every casino comes hardly as a surprise due to the fact that they are one of the fan-favourite games of both seasoned players and casino novices.
The reason for this is simple. Slots' rules are extremely easy to grasp which means that in practice anyone can enjoy them and win a cash prize. What is more, they are also a great source of entertainment which makes them even more appealing for players.
Brief History
In fact, slots have a long history that can be traced back to 1895 when Charles Fey created the first slot machine. Fey called the machine Liberty Bell after the highest-paying symbol which, as you may suggest, was a bell. The machine featured three spinning reels as well as a single payline. Some of the other symbols were card suits and horseshoes. Gradually, the machine started gaining popularity and more and more people were attracted by it.
After slot machines were banned, Herbert Mills decided to introduce new symbols that featured various fruits. In essence, this was a way around the prohibition of slot machines that allowed players to enjoy the game. The improvements that were introduced, made slots even more well-liked. After this, slots were added to the gaming collections of most of the gambling venues all over the globe.
The slot machine created by Fey has undergone numerous improvements and has definitely evolved over the years which enabled us to enjoy slots in their present form. The technological advancement led to the emergence of a wide array of online casinos that allow players to indulge themselves in their favorite casino game even from the comfort of their homes. Presently, gamblers can take advantage of a staggering number of slots, each with its unique theme, symbols, and features.
Types of Slots
Classic Slots
Nowadays, gamblers can stumble upon a mind-blowing number of slot titles that aim at providing players with the utmost gaming experience. Still, the very first type of slots that appeared was the classic one. Classic slots may feature a more humble design in comparison with video slots, for example, but they still enjoy great popularity among players. Usually, this type of slots features three reels and a single payline. Of course, there are also classic slots that may have up to nine paylines.
One more thing that is worth mentioning is that classic slots feature symbols such as lucky sevens, fruits, and bells. Many players consider that classic slots are not so impressive due to the fact that they do not offer free spins or bonus games. Still, they come with large jackpots which compensates for the absence of side games. In fact, people have pocketed some impressive prizes namely after playing classic slots.
Video Slots
Video slots are undoubtedly among the most popular casino games available out there. Currently, there are thousands of video slot titles and their number continues increasing. Video slots are far more advanced in comparison with classic slots. They are more appealing due to the fact that they feature top-notch graphics and come with bonus games that can increase players' profit. Occasionally, video slots have between five and seven reels. They offer players a larger number of winning combinations as they have more paylines.
When it comes to the paylines, gamblers need to know that they can stumble upon video slots with up to 100 paylines, that definitely give players higher chances of landing matching symbols. One more thing that sets apart video slots from classic slots is that video slots feature various interesting and appealing symbols.
Video slots' staggering popularity can also be attributed to the additional features they share. Players are enabled to take advantage of numerous bonus games that will not only increase their profit but will also greatly diversify their gaming experience. In most cases, these bonus games are played on a separate screen. Normally, video slots present players with free spins, multipliers, expanding wilds, wheel fortune, and various others side games. Occasionally, they are activated when you get three or more special symbols on one of the active paylines.
3D Slots
Recently, we were presented with 3D slots. To some extent, they resemble video slots. Yet, 3D slots are more advanced when it comes to graphics and sound effects. What makes this type of slots so compelling is that they feature extremely vibrant colors that give you a lifelike gaming experience. What is more, most 3D slots come with a complex storyline which requires completing various tasks in order to keep on playing.
What further adds to their merits is that 3D slots feature a larger number of paylines, which means that players can form winning combinations easier. There are 3D slots that offer 243 ways to win. Just like video slots, 3D slots also come with various additional features such as free spins and side games.
Virtual Reality Slots
The latest type of slots players can take advantage of is virtual reality slots. To a great extent, they resemble regular slots. Still, the major difference between regular slots and virtual reality slots is that the latter use a special technology that makes the gaming experience extremely realistic as you can even take a seat at one of the one-armed bandits that can be found in the casino.
Progressive Slots
A great number of gamblers prefer engaging in progressive slots simply because they give them the chance to hit a life-changing prize. As their name implies, progressive slots offer jackpots that keep on growing until they are hit by a lucky gambler. Progressive jackpots increase each time a player places a bet at this particular slot machine. When somebody wins the jackpot, it is reset to the same predetermined amount and starts increasing again from that value, thus reaching some mind-blowing amounts of money.
When it comes to such slots, we need to mention that there are two types of progressive slots. There are slots that are not restricted solely to one casino. What does this mean? Usually, such slots are connected in jackpot networks. Hence, the pool will increase each time players wager on these particular games in the web-based casinos that are connected in the progressive jackpot network. Occasionally, such titles are preferred by players due to the fact that the prize pools can reach a staggering amount of money in a short period of time.
Players can also enjoy slots that are not part of a jackpot network. This means that the jackpot will increase when players wager on this particular slot. Such slots are also quite popular even though their jackpots do not reach such mind-blowing amounts of money at that fast pace. Nevertheless, players need to bear in mind that progressive slots do not pay out that frequently due to the fact that they need to compensate for the substantially higher prizes they offer. It should also be noted that in most cases, gamblers need to play the maximum bet in order to have the chance to hit the jackpot.
Slots Paytable
While players single out slot titles they should not pay attention solely to their external features such as graphics and sound effects. Gamblers need to bear in mind that they need to take into consideration the paytable of the particular slot machine prior to getting started. As you may know, the paytable will provide you with all the information you will need about the payouts the game offers.
What is more, in the paytable there is also information about all the symbols gamblers can come across while playing, about the game's additional features and how to trigger them. One more thing players need to check is the payout percentage. Its value shows what is the amount the game is set up to return.
Objective of Slots
The game's objective is more than simple. Gamblers will get a profit as long as a certain number of matching symbols land on an active payline. As it was already mentioned, slots that feature a larger number of paylines enjoy greater popularity among players as they give them higher chances of getting a payout.
While wagering on slots, players need to follow a certain procedure. In the first place, checking the paytable of the particular slot machine is definitely a must. As previously stated, the paytable contains information about the payouts the slot offers, the high-paying and low-paying symbols, the special symbols, how and when side games, if there are such, are activated, and so on.
When you have acquainted yourself with this information, you are ready to start wagering. The first thing you need to do is to set the coin value. Gamblers should not underestimate the importance of this step as it determines the payout they will collect after a win. In most cases, it ranges from 0.01 and 2. Still, this is game specific and you need to check that beforehand.
One more thing that is worth mentioning is that some slots give players the opportunity to decide which paylines to activate. Such slots feature adjustable paylines. The paylines may start from the left to the right or in both directions. You can also see more advanced slots in which the paylines zigzag across the reels.
After players have selected one or more paylines, they need to look solely to them for winning combinations due to the fact that the rest of the paylines will be deactivated and even if matching symbols land on them, they will not pay out. It should be noted that gamblers can also come across slots that feature fixed payline, meaning that they are not given the chance to decide on which paylines they want to bet. In other words, they can place their bets on all of the available paylines.
Once players have set the coin denomination and have chosen the paylines they want to activate, they are ready to clock on the "Spin" button. Thus, the reels will start spinning and if you have managed to get identical symbols on some of the active paylines, you will be paid according to the paytable of the slot.
Software Suppliers of Virtual Casino Games
Slots are definitely among the most preferred casino games one can think of. Nowadays, gamblers are presented with the opportunity to indulge themselves in a mind-blowing number of slot titles. As you will probably notice, a large number of the casino operators have decided to devote a great part of their gaming collections namely to slots. This is possible thanks to the efforts of some of the leading software providers. A large number of the players opt in for web-based casinos that are powered by some of the most popular software suppliers due to the fact that they want to make sure that they will be provided with top-notch games.
Microgaming
Microgaming is one of the pioneers of the online gaming industry as they developed the softwares of both the first online and the first mobile casinos. In fact, the company was established in 1994 and has gone a long way prior to becoming one of the leading software suppliers. Microgaming is known for creating some of the best slot titles available out there. Their games blend diverse themes, breathtaking graphics, as well as various side games that can make players' gameplay quite fruitful. Undoubtedly, Microgaming is an important name in the gambling industry that offers quite an extensive collection of slot titles that will appeal to all slot lovers.
Playtech
Playtech is one of the largest software suppliers that are responsible for the gaming collections of a large number of web-based casinos. The company was established in 1999 and since that moment their efforts are directed towards providing high-end products. The software supplier in question boasts an extremely broad gaming collection that comprises more than 500 games. Their number continues increasing as Playtech releases new titles on a regular basis. Gamblers are offered an impressive number of slots, each with its unique theme and additional features. What is more, some of the slots also give players the chance to win a life-changing amount of money which makes them even more appealing.
NetEnt
Net Entertainment or simply NetEnt, as the supplier is also known, is among the leading software developers that are trusted by some of the most established online casinos. NetEnt offers players premium-quality games that guarantee an unforgettable gaming experience. The company's portfolio comprises games that feature first-class visual and sound effects which explains why they enjoy such a great popularity. This software supplier offers some of the most impressive slot titles that come not only with various additional features, but they also give players the opportunity to win a mind-blowing prize.
BetSoft
BetSoft is also among the most respected software suppliers. The fact that their services are used by such a large number of web-based casinos comes hardly as a surprise due to the fact that BetSoft boasts an extremely wide range of products. In fact, all of the titles the company offers feature life-like graphics, compelling sound effects, and offer a hassle-free gaming experience. Of course, BetSoft is responsible for a large number of slot titles each with its unique theme and symbols that will greatly diversify your gameplay.
Most Popular Slot Titles
Immortal Romance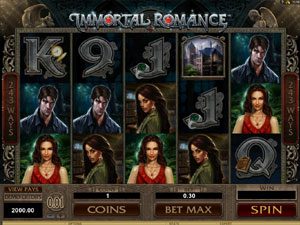 Immortal Romance is slot created by none other than Microgaming and will enable you to experience a touching love story. The game features an extremely intriguing plot that will continue evolving each time you spin the reels. The game is played on five reels and offers 243-ways-to-win format.
What makes Immortal Romance even more exciting are the various additional features it comes with. One such feature is the Wild Desire. When it is activated, the reels will randomly turn wild. If all five reels become wild, this will bring you a massive payout. The bonus game will give players free spins and a multiplier of their wins.
Mega Fortune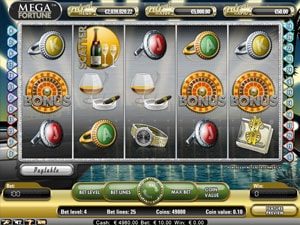 Mega Fortune is a progressive slot developed by NetEnt. It is inspired by the lives of rich people which explains why the symbols are represented by various luxurious items.
Mega Fortune plays on 5 reels, features 25 paylines and offers one of the highest progressive jackpots available out there. Players can activate free-spins session or a bonus round in which they will be presented with a wheel that gives them the chance to win the Rapid, the Major, or the Mega Jackpot.
Gonzo's Quest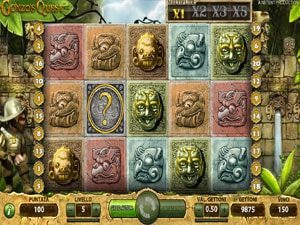 Gonzo's Quest is a video slot created by NetEnt which plays on 3 rows of 5 columns and features 20 paylines. It is one of the first games that feature the so-called "Avalanche Effect", meaning that the reels do not rotate, but the symbols look like blocks that fall instead of spinning.
It is an extremely exciting and intriguing game in which as long as you hit the jackpot, Gonzo will start collecting the coins that are falling from the sky. Gonzo's Quest also comes with a multiplier of your wins and free-spins sessions.
Mega Moolah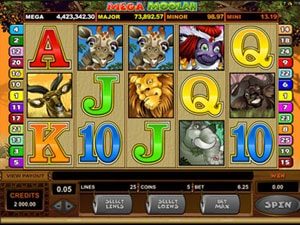 Mega Moolah has become one of the most well-liked slot titles developed by Microgaming. It is a slot inspired by Africa which plays out on 5 reels, 3 rows, and features 25 paylines.
This is one of the most preferred slot titles that gives players the chance to hit one of four progressive jackpots. There are the Mega, Major, Minor, and Mini jackpots. The game also comes with various additional features such as free spins that will make your gaming experience even more lucrative.
Dead or Alive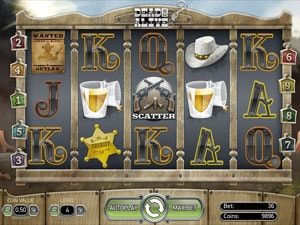 When it comes to popular slot title, we should definitely mention Dead or Alive. The game plays out on 5 reels, 3 rows, and features 9 paylines. It is inspired by the Wild West which explains why there are symbols such as cowboy hats, pistols, wanted posters, and so on.
The game comes with sessions of free spins that give players the opportunity to further increase their overall profit. During free-spins sessions wild symbols become sticky wilds, meaning that they will remain on the reels during the whole session, thus enabling you to form more winning combos.
Playing Slots on the Move
Slots' popularity can also be attributed to the fact that most of the software suppliers offer titles that are suitable for mobile play. This gives players the needed convenience and flexibility as they can access their favourite game wherever and whenever they wish. Not to mention the fact that while placing your bets via your portable device, you will enjoy a more interactive gaming experience.
When it comes to playing on the go, gamblers are presented with two options. The first one is to visit the casino's website and then, they will be redirected to its mobile version. The other option gamblers have is to download the web-based casino's application. Some of the online casino operators offer apps that can be found on their websites or that can be downloaded from the relative app store.
There are plenty of questions players ask themselves while enjoying their favourite slot titles. One such question is whether slot machines are really random? The results from the games are determined by a random number generator which guarantees that each player has an equal chance of getting a prize. What is more, slots undergo tests on a regular basis in order to ensure random and unbiased results.

FAQ
All the information you may need about the game can be found in its paytable. There is information about all the symbols, the additional features of the game, and the RTP.

This term is used to describe how often and how much the slot pays. If a machine has low volatility, this means that it awards small prizes frequently. Machines that have high volatility give substantially higher prizes but they pay out less frequently.

The only thing players can do in order to hit a jackpot is to play the maximum bet. This is the option you have if you want to qualify for higher payouts. Still, if you wonder whether you can behave in a certain manner or do something that will help you to win, the answer is no.